Artists Run Chicago 2.0 at Hyde Park Art Center, "Household Name: A Ten-Year Survey of Diego Leclery's  Self-Portraiture in Chicago's Artist-Run Spaces and Apartment Galleries"
September 1 –  November 1, 2020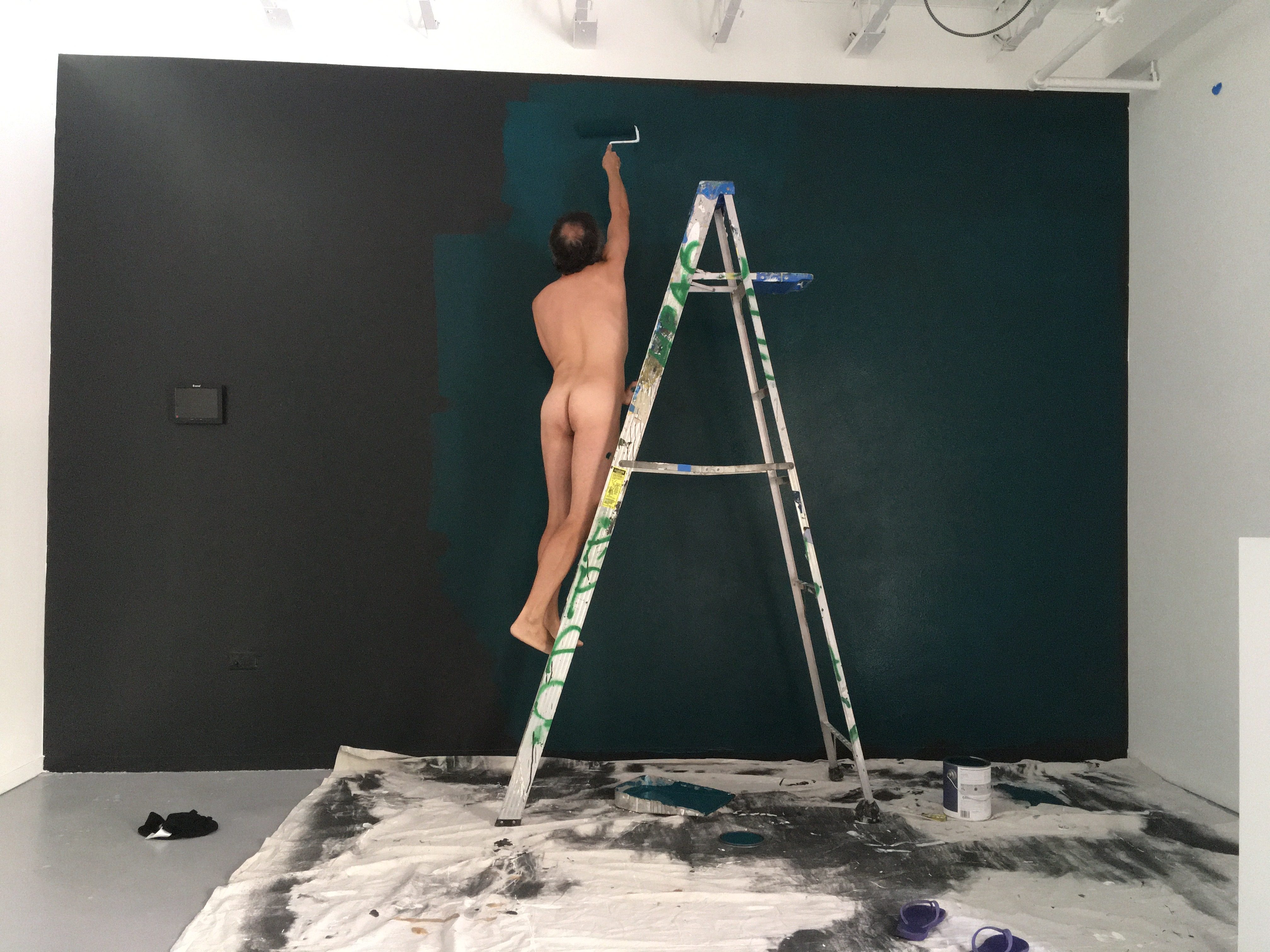 Over the last two decades, French-Brazilian artist Diego Leclery has thrown his body into the site of the Chicago apartment gallery and artist-run space with a degree of abandon rarely seen among artists of his generation.
From donning a stifling polar bear suit for hours on end, to allowing himself to be bitten by mosquitos, exposing his family life or naked body to public scrutiny, or playing live, unscripted sets of spontaneous songwriting during openings, Leclery has deliberately placed himself and his image at the forefront of his practice and, quite literally, on walls and floors all over this city at spaces like Kirk's Apartment, The Suburban, Autumn Space, Zrobili, Compound Yellow, Slow, peregrineprogram, Heaven, Swimming Pool Project Space, lloyd dobler, Alogon, MPTSN, Guertin's Graphics, Club Nutz, New York City – Gold Coast, Spoke, Scott Projects, Adds Donna, and at Julius Caesar, the long-lasting, West Garfield Park mainstay he co-founded in 2008 with Molly Zuckerman-Hartung, Dana DeGiulio, Hans Peter Sundquist, and Colby Shaft.
This decades-long cultivation of the fertile soil of Midwestern grassroots artistic production is rooted in the belief that non-commerical exhibition spaces, in this geographical region in particular, provide artists a more honest context that can accommodate indulgent performativity without necessarily evoking narcissism. This freedom from pretension allowed Leclery to double down on his own narcissistic tendencies and foreground himself so his visage and person could serve as a tool for the exploration of all dimensions of artistic production including (but not limited to) his selfish motivations, the ontological conditions that lead artists to identify themselves as creative, the ideological context of cultural production, and the physical space of galleries.
This survey of works is made possible by collaboration between Hyde Park Art Center and 4th Ward Project Space, and includes works originally exhibited at Chicago apartment galleries and artist-run venues not included in this or the 2010 iteration of Artists Run Chicago.
—————————————
Artists Run Chicago 2.0
September 1 – November 1, 2020
The Hyde Park Art Center is excited to re-open its doors for
limited exhibition hours
starting Tuesday, September 1, 2020, with the long awaited launch of the
Artists Run Chicago 2.0
 exhibition, celebrating the work of 50 artist-run spaces and organizations that fuel Chicago's independent art scene.
For the first time since 2006, all six galleries in the Art Center will be dedicated to one exhibition on view from September 1 until November 1, 2020. To mark the ten-year anniversary of the original Art Center exhibition, Artists Run Chicago (2009), this exhibition examines the motivations, trajectories, and philosophies that have made the past decade generative for new models of artist-run initiatives to exist throughout the city and suburbs.
The exhibition is FREE and open for reservations and limited walk-ins.
Tickets:
Visitors are highly encouraged to
reserve timed tickets
in advance of their visit to facilitate social distance. The first session of exhibition viewing hours is reserved for visitors who are at higher risk of contracting Covid-19. Capacity is lower at those times in order to develop a safer environment for vulnerable populations.
Covid-19 visitor guidelines:
Masks and social distancing are required at all times during your visit.
We encourage visitors to follow the directional path when possible.
We ask visitors to avoid high touch surfaces as much as possible and to use hand sanitizer regularly.
If you experience any Covid-19 related symptoms, we kindly ask that you stay at home and reschedule your visit.
If you have travelled to high risk states, we ask that you quarantine at home for two weeks before visiting the Art Center.
Artists Run Chicago 2.0 includes contributions from fifty artist-run spaces including:
062 Gallery, 4th Ward Project Space, 65Grand, ACRE Projects, Adds Donna, AMFM, Annas, Apparatus Projects, Bad@Sports, Blanc Gallery, Boundary, Chicago Art Department, Chuquimarca, Clutch, Co-Prosperity Sphere, Comfort Station, Compound Yellow, D Gallery, Devening Projects, Document, Experimental Sound Studio, F4F, The Franklin, Heaven Gallery, Iceberg Projects, Ignition Projects, Julius Caesar, Lawrence and Clark, LVL3, Mujeres Mutantes, Night Light Studios & Gallery, Nightingale Cinema, Ohklahomo, Practise, Prairie, Roman Susan, Roots and Culture, Rootwork Gallery, The Silver Room, Slow, The Suburban, Sweet Water Foundation, table, Terrain Exhibitions, Tiger Strikes Asteroid, TRQPITECA, Trunk Show, VGA Gallery, Wedge Projects, and Western Pole.