Ian Miyamura:
OCTOBER 31

October 30 – December 4, 2022
Reception for the Artist
Sunday, October 30, 4:00 – 7:00 P.M.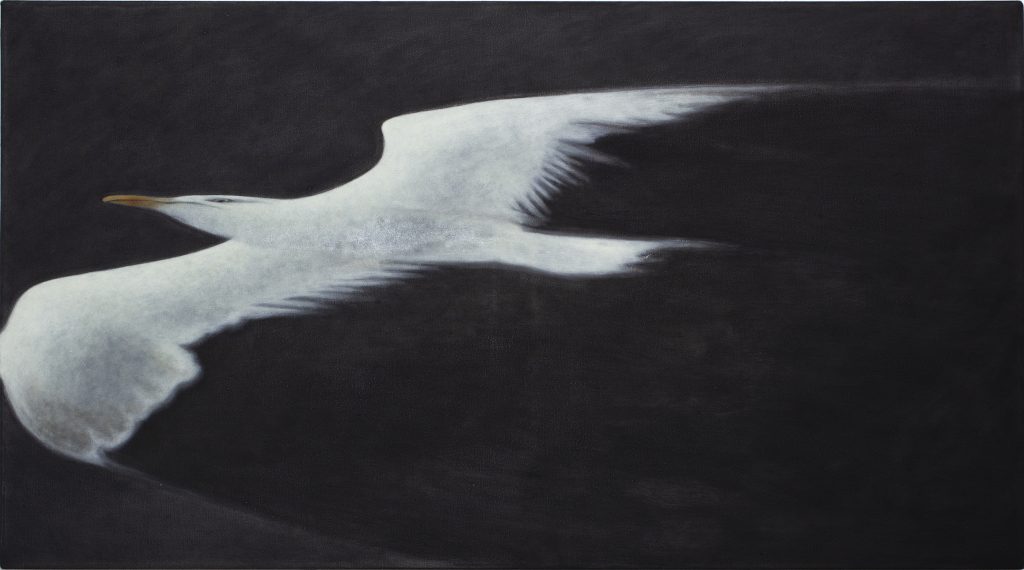 To protect itself from predators, the larvae of the leaf beetle will coat all or part of itself –depending on the particular species – in its own excrement. Though cumbersome relative to the size and weight of the larvae, this 'fecal shield' is carried along dutifully, often from the moment the one-day beetle emerges from its egg. Primarily effective as both physical barrier and optical camouflage[1], in a somewhat self-defeating chemical phenomenon, the makeup of the intended defense mechanism gives off markers that occasionally attracts unwanted attention.
Over the past year Ian Miyamura has produced a disparate collection of painted images. While examination of the individual pictorial subjects to define the whole will lead to dissemblance, the subtle material specificity and care that is unique to each painting reveals a deep inquiry into Painting's various modes of depiction. Three are of particular interest to Miyamura: resemblance, representation, replication. These distinct modes translate to paintings that are alliterative in sight and sound. When viewed this way, a painting of an unpainted Warhammer figurine – done in a style derived from 17th century Dutch and Spanish still life – and a debased abstract expressionist rip-off – with quick and viscous paint – are not quite as different as they appear.
The exhibition's title, OCTOBER 31, refers to the 31st issue of the academic journal October, which contains the article Mimicry and Legendary Psychasthenia[2] by Roger Caillois. In the article Caillois argues that it is with space represented in image that the viewer no longer perceives the world from an egocentric perspective; one from which they are the origin of coordinates, but instead a world they must navigate as one point among many others – "dispossessed of [their] privilege" and literally no longer sure where to place themselves. (The exhibition title is also a joke, as the show happens to open on the 30th of October).
A copy of the issue will be on display at the gallery.
---
[1] Leaf beetle larvae have also been observed using their fecal shields as bludgeons of sorts.
[2] Originally published in French in 1935, the English translation, by John Shipley, was published in 1984.